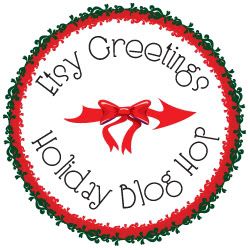 This post is part of the EtsyGreetings Team Holiday Blog Hop.
My absolute favorite part of the holidays is giving. I really love is thinking up small, but thoughtful gifts to share with the neighbors. Since I'm on a budget, they are almost always handmade with all the creativity I can squeeze in during the busy season!
I've shared a few of my gifts here... they're all simple, relatively inexpensive and you can make enough to blanket your whole neighborhood with a generous blanket of goodwill!
These spicy glazed pecans were a HUGE hit! People couldn't get enough of them (they're really addictive!) -- I ended up making many, many pounds of them and sharing with neighbors, coworkers, friends. They're also a terrific addition to holiday parties.
My blog post includes the recipe and a free download for the cute label for your holiday gift-giving convenience!
Hot Chocolate Mix with Homemade Marshmallows
Homemade marshmallows are easier than you would think. Pair them with hot chocolate mix and you've got a thoughtful holiday gift for the neighbors. The kids helped make everything and then we packaged them together along with a candy cane for stirring. Everything looked adorable all packaged up and ready for distributing.
My blog post includes links to the recipes and photos of my happy elves working away!
Just one more:
These tacks, personalized with my coworker's images, made for some inexpensive workplace gifts. Packaged in repurposed Altoids tins, they were curiously cute.